3/16/02-9/6/16
AQHA Brown Stallion, 17 hands.

Sire of World, Congress, NSBA, National and European Champions.

His offspring are eligible for the AQHA Incentive Fund, APHA Breeders Trust, NSBA, Tom Powers Triple Challenge, ILQHA, and Southern Belle Futurities.
Its All About Blue stands 17 hands. He is a Gentle Giant that is able to make the claim of already siring World, Congress, National and European Champions. This is truly a remarkable statement for a young sire.

His show career was very limited due to a very serious injury sustained as a youngster, that could have very well sidelined him completely. We feel it is to his credit that he had the heart to be able to compete at all, yet found a way to earn an AQHA ROM.

IAAB's full sister, Elegant and Blue, earned a Superior in Hunter Under Saddle and won the Tom Powers as a 3 year old (open Futurity). Another full sibling, Dressed Up In Blue, has an Open and
Amateur Superior in Hunter Under Saddle, a Tom Powers Champion, Regional Champion, and multiple top ten placings at the Congress. Venturize, his dam, is a great producer with TB lines going back to Man Of War. As you will see below in his video clip, he has inherited his father's (Skys Blue Boy) phenomenal movement.
SIRE
Cloud Walker
Sky Blue Walker
Strawberry Pigeon
Skys Blue Boy
Marshuas Dancer (TB)
Millies Dancer (TB)
So Fine (TB)

---

DAM
Buckpasser (TB)
Pollinize (TB)
Aspidistra (TB)
Venturize (TB)
Hopeful Venture (TB)
Sunny Venture (TB)
Rebel Ange (TB)
Click here to print pedigree.

---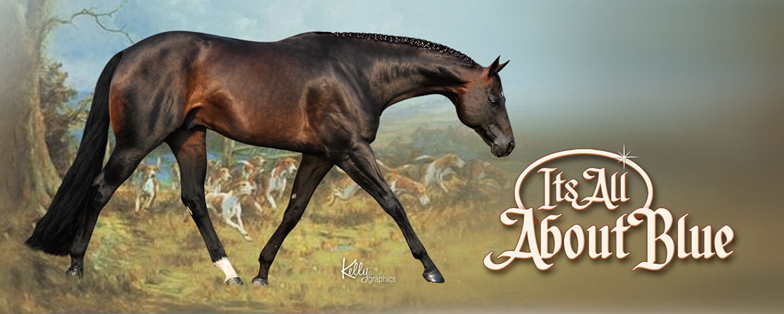 More Winners by "Its All About Blue"
Sweet Blue Shadow
(IAAB X Shadow Investment)
2012 winner in Multiple Classes for Green HUS, Novice Amateur HUS and Halter.
Owner, Patricia Inskip.
Perfect Blue Coat
has over 75 points in Open, Green, Youth and Amateur Hunter Under Saddle. Multiple Circuit Championships. Owner, Frank Salopek, 17.3 hands.
The Blue Cowboy
Over 40 points in 2012 and close to 5,000 in cash prizes. 6th in AQHA national standing in Green HUS as of 8/15/12. Owner, Doug Kerr & Ed Weber
Hes Alreddy Blue
2nd in Leading nation in Non-pro HIH Geldings
2010 ApHC National Champion Hunter in Hand
Owner/Exhibitor, Wendy Shuknecht
Perfect Blue Coat
2010 Congress Champion 2 yr old HUS LTD
Exhibitor Ed Weber
Owner Frank Salopek
Into The Blue
Leading nation in NP Hunter in Hand Geldings
2012 Res. World Champion 2-3 YO Geldings HIH
2010 ApHC World Champion LL
Its All About Blue Foal Photos
Painted Blue Details
2012 Colt
by IAAB X Anotherdreamydetail
Owner Cindy Ingels
photo taken at birth
2012 Huge Bay Filly
by IAAB X Mathissumfun (TB)
owner Bobbie Parker

(photo taken at two weeks old)
2012 Bay Filly
by IAAB X Glowing Illusion
owner Bobbie Jo Stanton
Boy Shes a Natural
2010 Filly
Dam: Hy Wyck Huntress
Owner Mark Albright
Casey
Appaloosa colt with
Snowflakes on both hips.
Dam: Heaven N Paradise
Owner Eric Henning
2011 APHA colt
Dam: Graceful Commotion
Owners Ed Weber and Doug Kerr
"Forrest"
2012 AQHA colt
Dam: Stylish Detail
Owner Katrina Marie
Ah Ha Moment
2011 Filly
Dam: A Duplicated Star
"Charlie"
2011 APHA colt
Dam: Charisma N Class
Owners Tracy Hull and Rusty Miller
---


Ray and Linda Monaco
63 French Hill Dr.
Prosperity, PA 15329
Email: skysblueboy@cobweb.net
Phone: (724) 228-8324 Fax: (724) 228-8740

Contact us for the Latest Its All About Blue DVD


Click here to view our links